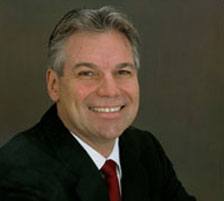 DR. RONALD L. CHAMPION, DDS
Great smiles begin with a visit to Dr. Ronald Champion's office! Dr. Champion is a board-certified orthodontic specialist and a diplomate of the American Board of Orthodontics. He has been in dental practice since 1973 and an orthodontist since 1981. He completed his dental education and earned his Master of Science degree and specialty certification in orthodontics at the University of the Pacific Arthur A. Dugoni School of Dentistry. Dr. Champion is a member of several prestigious professional organizations, including:

American Association of Orthodontists
American Dental Association®
Stanislaus Dental Society
Pacific Coast Society of Orthodontists
California Dental Association
California Association of Orthodontists
Peninsula Orthodontic Research Group
INPUT Study Club
Dr. Champion has served as president of the Stanislaus Dental Society and president of the Northern California Edward H. Angle Society of Orthodontists. The Angle Society is an exclusive world-renowned international orthodontic study club consisting of approximately 600 members. Membership is by invitation only and is based upon proven clinical excellence and commitment to both the highest ethical standards and the advancement of the art and science of orthodontics.
The Peninsula Orthodontics Study Group
Dr. Champion is proud to be one of the select members of the Peninsula Orthodontic Study Group, which was founded in 1960. It continues to be the premier orthodontic study club with an ongoing legacy of studying and sharing the latest advancements in orthodontic care and commitment to achieving the highest quality of patient care.
American Dental Association®
The ADA is the largest professional organization of dental professionals and a great source of information on dental and oral health topics.
American Board of Orthodontics
The world's oldest organization for orthodontists.
American Association of Orthodontists
The world's largest organization for orthodontists.
Pacific Coast Society of Orthodontists
Founded in 1917 and with over 3,000 members, the PCSO is the largest component organization of the American Association of Orthodontists, representing orthodontic professionals from the western United States, western Canada, Alaska and Hawaii.
California Dental Association
Founded in 1870 and representing over 24,000 dental professionals, the CDA is the largest state dental organization in the United States.
California Association of Orthodontists
The leading organization for orthodontic professionals in California, the CAO promotes ethical and successful orthodontic practice of the highest quality.
Dr. Champion and his team are committed to offering comprehensive orthodontic solutions for children, teens and adults in a friendly, cheerful and professional environment. We promise to give you something to smile about!
---

Meet Our Team
At Champion Orthodontics, our team members do whatever they can to provide patients with the professional, comfortable orthodontic care they need. Come meet our team and learn more about what they do for our orthodontist in Modesto, California. Call us today at 209-575-5888. We look forward to getting to know you and your family!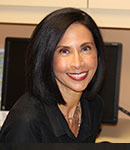 Karen
Practice Administrator
Hi! My name is Karen and I am the practice administrator responsible for maintaining superior patient service, as well as serving as one of the two treatment coordinators. My most important function in Dr. Champion's office is in patient care. It is our goal to provide you with the best orthodontic result possible, as well as ensuring the experience along the way is pleasant and efficient. Any one of Dr. Champion's team members can answer any request or questions you have, but if you are not completely satisfied, I am the person to contact.
I have been a team member at Dr. Ronald L. Champion, D.D.S. for over 15 years and have enjoyed every day. I have the privilege of welcoming the new patients to our office and preparing them for their examination. Once they have been evaluated for treatment by Dr. Champion, I can explain in "layman's terms" what Dr. Champion has outlined for them in their treatment plan. In addition to this, I also assist our patients with their financing. We here at Champion Orthodontics realize we are in unprecedented times with our economy and give each family who wants braces for their children or themselves a way to make that happen. We are proud to offer no-interest financing as well as a variety of options to meet your financial needs.
The most rewarding part of my job is taking a patient – whether it be a child or adult – who may be fearful or has no prior orthodontic experience and removing their fears. I can address their concerns while giving them a full education in how braces work. All of us at Dr. Champion's office take enormous pride in serving all of our patients with what we consider beyond the highest standard of care. We look forward to seeing you and letting you experience this for yourself.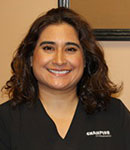 Sandra
Clinical Supervisor
Sandra is our clinical supervisor. She has been a part of our orthodontic team since February 2005! Sandra graduated from Bear Creek High School in 1995 and then graduated from Andon College in Stockton. She chose to work in the orthodontic aspect of the dental field because it gives her the opportunity to see beautiful smiles all day long. She loves mentoring her clinical team and enjoys the fact that we all have the same goal: to make our patients comfortable and happy while getting serious work accomplished.
Positive energy is one of Sandra's greatest strengths! She laughs a lot and likes to create a fun and relaxed atmosphere in the clinic. Going to the orthodontist should be fun because it is a gift either your parents give to you or you give to yourself, and that should be celebrated every day. She can't wait to see you and to see you smile!
In her spare time, Sandra enjoys shopping, working out, playing with her dogs (Ruby, Penny and Heide) and going to the beach. In addition, family time is very important to her, so she spends lots of time with her older brother and two nieces. They enjoy weekend barbecues, skating and swimming. As if she is not busy enough, Sandra has recently become a Bikram-certified yoga instructor and teaches in Stockton and Modesto, where many of her team members and patients take her classes. Sandra brings the Zen that makes her patients feel confident when they are in her chair.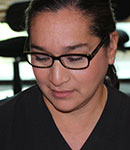 Anna
Registered Dental Assistant, Front Desk Floater & Administrative Assistant
Anna is our registered dental assistant. She earned her degree at Modesto Junior College and has been working as an RDA for over ten years. The best part about working in orthodontics is getting to know each patient and helping them create a beautiful smile.
Anna enjoys working with the team and feels that she contributes a calm which can be very relaxing for our team as well as our patients, whether it's a student coming off a busy school day or an adult running in for their appointment while juggling work and family. Anna wants everyone to be able to relax and take a breath as we get through the appointment together and get the task at hand completed. In her spare time, Anna enjoys spending time with her family. She has a son and a daughter. Her family enjoys baseball and swimming.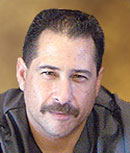 Ross
Sterilization Technician/Operational Supervisor
Hi! My name is Ross. Besides Dr. Champion, I am the only man in our office, so without saying much, you can imagine how fortunate I think my life is! On a more serious note: I work in the sterilization department, operating Dr. Champion's state-of-the-art, hospital-grade sterilizing units, which is something I am very proud of!
In addition, I make a variety of translucent retainers, athletic mouth guards and other appliances in-house. I also serve as the operational supervisor, dealing with ongoing maintenance and repairs of all aspects of our building. I'm even the guy who keeps the floors sparkling clean at the end of the day. I enjoy the interaction with the vendors, patients and co-workers. I have even been known to fill a flat tire or two for a patient family to get them to the tire shop, assisted in retrieving keys locked in their car. If your battery is dead, I have jumped a few of those for our patients too! We joke about it, but we really do see ourselves as a one-stop, ful- service office! It always makes me happy to hear someone talk about how professional yet comfortable our office is, and I'm even happier to know I am a part of making that happen.
In my spare time, I enjoy tinkering with computers, bike riding and cooking for my family.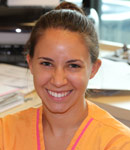 Charlie
Social Media, Internal Marketing
Hi, I'm Charlie! I have been working for over five years as a team member at Champion Orthodontics and could not be more excited! I manage the office's social media, office contests and assist in a variety of practice marketing projects. I enjoy being able to provide orthodontic information to the patients through various social media websites under Dr. Champion's direction. It is especially fun for me to set up office contests and engage our patients in the fun side of orthodontics.
I am currently a full-time graduate student at Arizona State University, where I will graduate with my PhD in clinical psychology in 2020. I am currently seeing clients part-time as I gain the working hours necessary for introduction into my intern program. I miss seeing the patients and team at the office in Modesto, but when I do come by, the reunion is always amazing. I enjoy the work of putting together social media communication with our patients and look forward to continuing in this capacity until graduation and maybe even beyond!
In my spare time, when I have it, I enjoy cooking, pleasure reading, movies and spending time with my family.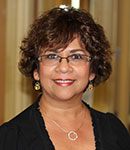 Lillian
Financial Administrator
Hi, I'm Lillian and I joined the team in 2008. I am the financial administrator for the practice and have been in the field for 30 years. I cannot believe that much time has gone by! I have worked in all capacities, from the front desk to the clinic and now in finance. I enjoy the relationships I build with our patients by earning their trust. Financing anything is never without stress, but here at Dr. Champion's office, we strive to make it as comfortable and affordable as possible when it comes to paying for braces. Especially in today's economic climate, we all need someone in our corner to help show us the way to make something as important as orthodontics possible.
When I am not assisting patients with financing their orthodontics, my husband, Greg, and I are busy keeping up with our talented family. Our son, Ryan, has followed his mom into dentistry and is now working in a private general dental practice back home in Modesto after graduating from the University of the Paficif Arthur A. Dugoni School of Dentistry in San Francisco, and he loves it! He and his wife, Kendra, have given us our first beautiful grandson, Wesley, and he is the cutest thing you have ever seen! My beautiful daughter, Alyssa, lives in Los Angeles while pursuing a professional music career, and my baby, Lauren, is an accomplished dancer who we are lucky to still have at home. I am also blessed to still have my parents living just down the street. I look forward to meeting with you when it's time to start your orthodontic treatment!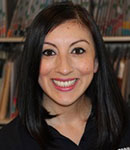 Maria
Registered Dental Assistant
Maria attended Galen College in Modesto, CA. She recently moved back to Modesto from Oxnard, CA, to marry and feels fortunate to have found her new home at Dr. Ronald L. Champion, D.D.S. Maria always stays positive and is willing to learn. She enjoys our professional team and the opportunity to learn the latest in orthodontics. Maria has a husband named Jose, and they are the proud parents of a young daughter, Mikayla. In her spare time, she enjoys cooking, reading, running and bicycling.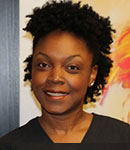 Traci
Dental Assistant, Clinical
Traci is a clinical RDA with over five years of experience. She is patient, gentle, and kind. Her soft-spoken nature and light touch are what give Traci her win with our patients! Prior to her RDA licensing, Traci attended Modesto Junior College and obtained a degree in general education and art. Traci is an accomplished professional artist, which fits in so perfectly with the artistic nature of orthodontics! Her favorite medium is watercolors, and we are so proud of her talents. We hope you visit her website to see more! You can find Traci's art at www.traciswatercolors.com. You can also see her out and about the third Thursday of the month at the downtown Art Walk, where she displays her pieces in various locations. We are thrilled to have Traci join the team!